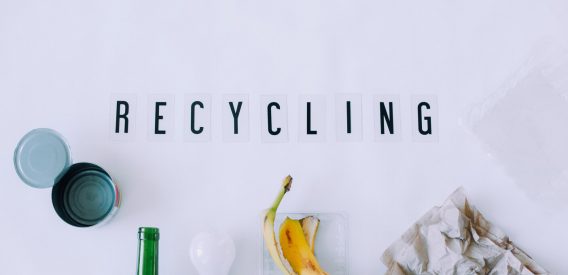 Have you ever wondered what happens to your recycling waste once it has been collected from your home? This blog outlines Barna Recycling's process and gives some recycling tips.
Barna Recycling takes great pride in our recycling waste disposal process. Did you know we export recycled plastic waste bales overseas? These bales are often shipped to Europe for use by energy plants. As plastics have a high energy content that can be converted to electricity, synthetic gas, fuels, and recycled feedstocks for new plastics.
Barna's Waste Disposal Process
The Irish Waste Management Association (IWMA) has 40 member companies that collect, recycle & treat a wide range of waste types across 60 waste management facilities. These facilities are licensed by the EPA and approximately 30 waste management facilities are permitted by the local authorities in Ireland – Barna Recycling being one of those serving the Connacht region.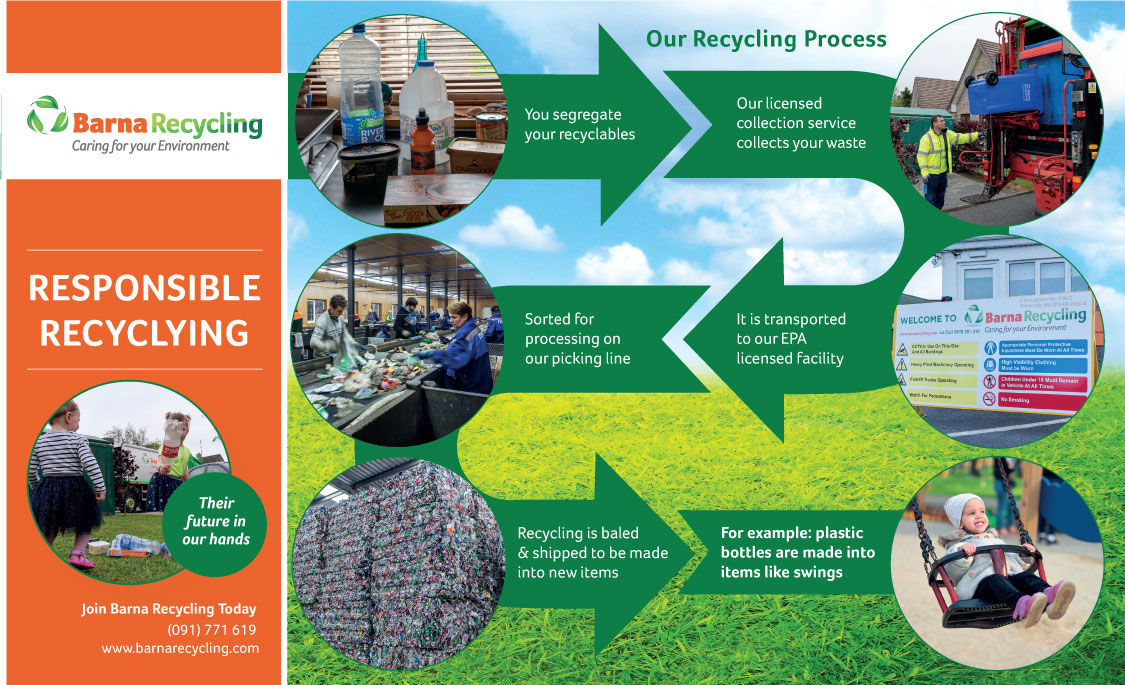 The process all starts in your home, whereby you separate your waste into general waste and recycling, compost too if you have a brown bin. Our licensed bin men then collect your blue bins on the designated day and deliver the waste materials to our EPA licensed recycling facility. These facilities can often be known as materials recovery facilities because that is the main objective, recover as much recyclable material within each load so that it can be re-used.
Once your waste materials are delivered to our facility, the recycled items are then sorted for processing on our picking line. Recycled waste is generally broken down into six categories: glass, aluminium and steel cans, paper, cardboard, plastic bottles and packaging, and other non-recyclable residual materials. Most of this process can be operated mechanically, but some manual work is required to obtain maximum recovery of recyclable materials. Any waste materials that are contaminated or non-recyclable are removed at this stage. All recyclable materials in good condition, are then prepared for re-use.
Plastic and cardboard waste is baled and exported for use by manufacturers or energy plants.
Glass bottles and jars are cleaned, sorted, and crushed. This material then becomes known as cullet, which is the term used for furnace-ready recycled glass. It is then remoulded into new products.
Aluminium cans go through a cleaning and sorting process. Once ready for reprocessing, the cans go through a re-melting process which removes any ink or other coatings present. It is then made into blocks called ingots which can then be milled to create new products.
Some interesting facts on what happens to your recyclable items:
Plastic bottles are made into items such as kid's swings.
Around 650 aluminium cans are required to make a kid's bike.
If you recycle one aluminium can today, it can be made into a new can, get filled, and be back on the shelf in just six weeks.
Recycling Tips:
Don't use plastic bags to pack lunches or store food items, buy durable lunch and storage boxes instead. Using storage boxes with lids also reduces the need to use cling film or tinfoil to cover a plate or bowl.
Make sure your small recycling bin inside the home and the main bin outside are kept dry and clean – if recyclable items get wet, it becomes contaminated and cannot be recycled.
Reduce the number of items such as fruit and veg packaged with plastic waste.
Take a reusable bag when going out shopping.
If shopping online, look for sites that offer reduced packaging or more environmentally friendly packaging options.
When you receive your online goods, look to re-use the packaging when possible.
Clean out and dry all food and drink containers and take the lids off bottles.
Flatten plastic bottles, containers, and cardboard.
Look to eliminate or reduce your use of plastic plates, cutlery, straws, and cups.
Have a designated bin or reusable box in your home for glass items and cans, this will make it easier to transport these to a bottle bank or recycling centre.
Encourage a community clean-up in your area and get the family involved – contact your local authority as they often help by providing gloves, bags and pick up the waste collected.
View a full list of recyclable items here.