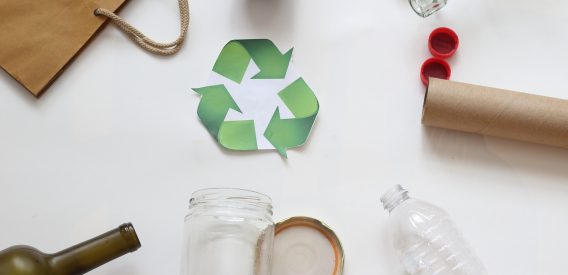 Happy New Year!! It's that time of year again when we have to say goodbye to our beloved Christmas Tree & decorations. While some people are putting this task off until the very last minute, most of us are inclined to remove our Christmas decorations before they become a nuisance.
At Barna Recycling, we understand a post-Christmas clear out in the new year, especially while we are all still recovering from the holiday season & settling back into our daily routines. We hope to simplify things for you by outlining some of our top tips on managing and recycling your Christmas waste correctly.
1. Christmas Trees
Barna Recycling would advise all of our customers to dispose of their trees in a responsible and effective manner. No one likes to see a sad Christmas tree on the side of the road. The good news is that real Christmas trees can easily be recycled, replanted or shredded into chippings and used in parkland areas. On the other hand, Artificial Christmas trees cannot be recycled but reused and donated to family, friends, or a local charity shop. If any of these are not possible, you can also bring your artificial Christmas trees to a civic amenity site to dispose of.
Find out more ways to dispose of your Christmas tree here.
2. Baubles
Glass and metal baubles can be brought to your local civic amenity site. Glass baubles can also be disposed of in the glass bottle recycling bank. Plastic baubles which are hung on your Christmas tree need to be placed in the waste bin as this type of plastic cannot be recycled. It is also important to remember that baubles are not made for one-time use, so try to reuse them as much as possible. You can get large storage boxes with lids that will keep the baubles safe and you can keep them safely stacked on top of one another.
3. Christmas Lights
Unusable or broken Christmas lights must be brought to the civic amenity site as they are not suitable for recycling. If you are purchasing new lights, the retailer may take the old lights for you, depending on where you are shopping.
4. Christmas decorations
Tinsel and ribbons can only be disposed of in the general waste bin as they are not suitable for recycling. Again, you don't need to dispose them off every year. They can be stored neatly in storage boxes in the attic and reused every year.
5. Christmas Cards
You can place Christmas cards directly in the household recycling (blue) Barna bin. Going forward, you could also consider sending Christmas cards with a family photo, which is more personal and will likely be kept rather than thrown away.
6. Christmas Wreaths
The Christmas wreath you hang on your door must be taken apart before it can be disposed of. Compostable material can be added to your compost bin. The remaining material needs to be dried out and then placed in your waste bin.
7. Wrapping paper
All wrapping paper is 100% recyclable so don't be afraid to place this in your recycling bin once all the presents are opened.
8. Batteries & Electrical items
Batteries cannot be disposed of in any of your household bins. You must bring them back to where you purchased them or to a civic amenity site. Alternatively, some supermarkets like Aldi allow customers to dispose of their used batteries directly in some of their stores. Electrical items such as chargers also need to be disposed of correctly. They need to be returned to where you purchased them or should be brought to a designated WEEE drop-off recycling point or your local Civic Amenity Site to be disposed of. Click here for more information on how to dispose of WEEE the right way.
9. Food Waste
Along with everything else that goes with Christmas, you must also manage the excess food waste and cooking equipment. Aluminium cooking trays can only be disposed of in your waste bin. Thankfully, many food and nutrition companies are more aware of the importance of recycling and have changed their packaging to be completely recyclable. Make sure to check this on the packaging before getting rid of it to ensure it is disposed of correctly.
You must also wash containers such as milk cartons before placing them in the recycling bin to ensure no residue is left in them. Food Hampers & gifts such as cheese, nuts, jams, pasta, biscuits & chocolates usually have a long shelf life; therefore can be stored and consumed over a period of time. Leftover food from Christmas dinner can be stored away correctly and reused the next day. The remainder of the food can be used as compost. Unused fruits, vegetables, potato peels, tea bags, coffee grounds, eggshells and flowers can all be added to your compost heap. You can also place these items in your brown Barna bin so that it is collected, processed and made into compost. This is then used as a fertilizer for farming.
For more information about food waste management, check out our blog here.
The Barna Recycling team would like to take this opportunity to wish all our valued customers a happy & prosperous New Year!