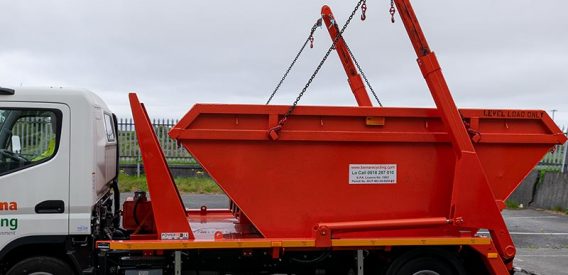 One of the easiest and most cost-efficient ways of disposing of large amounts of waste is by hiring a skip. At Barna Recycling, we deliver skips to households and businesses for a wide range of waste materials. There are some important aspects to consider when hiring a skip, such as the best place to put it and how to fill it safely. Whatever your reason for hiring a skip, please keep these important tips in mind!
Hiring the right skip for you:
It can be hard to know what size of skip you need as what looks like relatively small waste might take up a lot of room in a small skip. Likewise, for bulky waste, many people think they the need the largest skip possible, but often when these items are broken down the skip may not be full and not the best value for money. When phoning our customer service team to book a skip, they will help you establish what skip size you need. Alternatively we have developed this handy skip sizing guide to help you choose the right skip.
Best place to put a skip:
Try and avoid resting it on any dips or slopes as it may move once unbalanced due to the loading of waste materials. If you require the skip to be left on a main public road, please let us know as it is likely you will need a permit for this. As well as a permit the skip may require added safety equipment such as nets, doors, or signage. Once delivered, skips cannot be moved and is important that you do not attempt to move it.
What cannot go in a skip:
Hazardous Waste: The big rule that is often forgotten is that hazardous waste should not go in a skip. It can leak and contaminate other recyclable materials.
Asbestos: If you come across asbestos during a renovation project or a home clear out, this must be dealt with by a team of specialists and not put into a general skip.
Appliances: Other items that we find causes great confusion is around electrical items, especially large household items. Refrigerators, freezers, microwaves & cookers should not go in a skip but instead be brought to a recycling centre.
Oil or paint cans
Tyres
Solvents, fuels and batteries
Chemicals, flammable materials
Household waste: Such as food scraps, soiled nappies, and sanitary items.
Liquid Concrete
How to load it safely:
We recommend that you load heavier items first, putting lighter items on top. It is very difficult and unsafe to load heavy items when the skip is nearly full and there is an increased risk of injury in doing so. It is key to have an extra pair of hands when filling a skip, especially when dealing with large bulky items that may be heavy to lift by yourself. Smaller items or materials will naturally fill the spaces in and around these larger items and it is a more efficient way of filling the skip.
How to maximise space in the skip:
To maximise the space of your skip, make sure to have a good plan in place. Simply throwing everything into the skip without having a plan will result in wasting plenty of space. It can also waste time as you may have to take items out to 'rebuild' your skip. If you are working as a team of people, make sure everyone filling the skips knows the plan.
Where possible have the items lined up in the order that they need to go in the skip. For example, if you have dismantled a kitchen, you could place all the cupboard doors, shelving & unwanted timber first in line to be placed at the bottom of the skip. You could then have the bulkier items such as furniture, building blocks and other materials lined up and ready to be placed on top.
Break down large items like tree limbs down into smaller pieces, remove any arms and legs from furniture and dissemble old appliances where possible.
Ensure you're distributing the weight as evenly as possible to reduce the risk of it tipping over once it's full.
Our tips for maximising the space in the skip:
Break down furniture before loading it
Don't leave gaps in between, try and fill gaps with smaller, lighter materials
Load all the flat items first, things like plywood, table tops etc
Put bulky items in after laying down the flat materials
Do not overfill the skip:
In the interest of everyone's safety, it's important that you do not overfill your skip. Something could fall out and injure you, or when it has been collected, items may dislodge during transport.
For health and safety reasons, overflowing skips cannot be removed and transported from your property to the Barna Recycling waste management facility. Skips should be filled to the top and no further. To avoid other parties from placing items for disposal into your skip Barna Recycling have a number of skips available with security lids.
To view the hiring process and some frequently asked questions, read this blog.
If you have any further questions on skip hire, don't hesitate to contact a member of our skip hire team on 091 771619.
Barna Recycling offer a wide range of skips for hire across Galway, Roscommon, Mayo, Sligo and Leitrim.