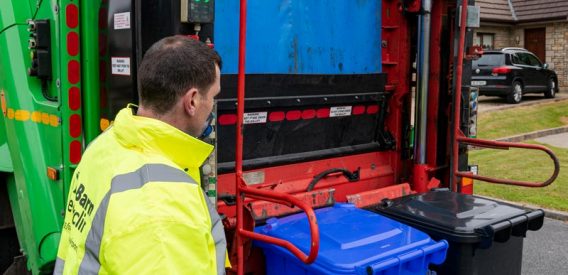 Barna Recycling is committed towards taking all the necessary precautions possible to ensure a continued and uninterrupted flow in the provision of our services. We would like to let our customers know that our wheelie bin and skip services are still operating, and customers will be notified well in advance of any changes to our operations that may arise in the future. We would like to assure all our customers and employees that we are strictly following the HSE guidelines and doing the best we can to reduce any risks.
The safe management of household waste is very critical during the COVID-19 emergency. Taking effective precautions with household waste management can minimise the possible secondary impacts upon our health and surrounding environment.
In addition to the HSE guidelines, we would like to request all our customers to take the following additional steps when disposing of household waste and presenting bins for collection:
Be sure to present your bins for collection the night before the collection day. Please note that collection times may vary due to operational or situational changes.
Ensure your bin lid is closed and materials are not at risk of falling out.
Wipes, cloths and gloves can be placed in the general waste bin.
If some households are self-isolating or under quarantine, they will need to manage their waste by adhering to the guidelines of HSE. Click HERE to learn more.
Wipe the handles of the bins using a disinfectant liquid/spray before and after collection.
We at Barna Recycling have already taken a range of operational and precautionary steps to protect the service we provide for you. We would like to reassure customers that all our essential services are continuing to operate. However, our customer support services are continuing to operate through a blend of remote and on-site working, so it is possible that you may experience delays from our end to answer any calls to our contact centre, as the covid-19 situation persists. In the meantime, we have implemented a range of online support options to ensure our customers can get the help they need.
For any general questions related to waste management and bin collection please refer our website: https://www.barnarecycling.com/
If you are a registered customer, you can simply login to "My Account" to avail of the services tailored for you:
Pay your bill and view account transactions
View your collection calendar/schedule
Contact us through "Account Support"
Our free Household customer app is exclusively designed to help you manage your household's waste and recycling needs. You can download the App HERE. Here's a summary of some of the features of the app:
Pay and/or top up your account safely at the click of a button
View your collection calendar and collection reminders.
View account transactions.
Contact us through Account Support with related queries.
Monitor the weight of the waste disposed.
View your bin collection history.
Get personalised alerts and reminders on payments and bin collection straight to your phone.
Alternatively you can also contact our customer care team by emailing Domestic@BarnaRecycling.com or through our website BarnaRecycling.com, and a member of our support team will be in touch with you.
Our dedicated household team are here to discuss and provide a solution to any queries you may have about household waste management. They are committed towards providing you with the support you need and advising you on ways to minimise costs relating to waste management.
We would like to thank all our customers and crews for adhering to the guidelines we have set out during these unprecedented times, in order to keep you our customers and crews safe.