1)
When those brief moments of sun arrive, you'll probably jump at the chance to break out the BBQ. Disposable BBQ's are convenient to use, but do you know how to dispose of them correctly?
They can be disposed of in your general waste bin provided it is fully cooled first and fits in the bin.  If the disposable BBQ doesn't fit into the bin, the cleaned BBQ tray can be brought to a recycling centre. Please click here to view our recycling centres near you.
If you have bought a new Gas or Charcoal BBQ and are wondering how best to dispose of the old one.  You should know that the metal frame and trays of gas and charcoal BBQ's can be disposed at your local recycling centre too. Charcoal ashes can be placed in your general waste bin once they have cooled down and have been placed in a bag. Gas containers can be brought back to your local gas supplier to refill or swap for a new canister.
2)
In an effort to be more sustainable why not try to minimise the use of single use plastics when you have friends & family over. These items are things like plastic bags, straws, coffee stirrers, fizzy drinks, water bottles and most food packaging.
We produce roughly 300 million tons of plastic each year and half of it is disposable! World-wide only 10-13% of plastic items are recycled.
Think back to the last time you cleaned up after a party. How many bin bags filled with napkins, plates, cutlery and cups did you throw out? If it was a birthday party, you probably added wrapping paper (most of which can't be recycled), party hats and balloons.
Here are some tips on hosting a plastic free party:
Instead of using paper or plastic tablecloths, use fabric tablecloths
While balloons and banners can be viewed an essential part of decorating every party, you could switch the plastic banners for a hand painted bed sheet or pillow. You could also switch some of the balloons for jam jars with your key message 'Happy Birthday' or 'Congratulations' written or painted on the jars.
You could also use old newspapers to create decorative paper chains or party hats
As you know, once you start prepping for summer, there is just no end to it.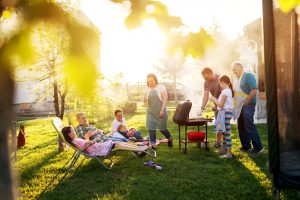 3)
Outside in the garden, containers such as weed killer, plant food etc can be taken to a local recycling centre. However, they must be labelled and clearly identified to be accepted.  Most of these plastic containers are recyclable and once they are completely emptied and rinsed out, containers can normally go into the recycling bins. You will see the recycling logo or further information on the packaging label. If you are unsure, you can always check with your local recycling centre.  You can contact the Barna customer support team here.
4)
If you are clearing out a shed or garage of all the items you may have hidden away or forgotten about, see if some of these items can be reused or upcycled. If it has seen better days, then maybe you need to dispose of it by bringing it to your local recycling centre.
Hard plastics such as a paddling pool are considered recyclable, but the same can not be said for soft plastic such as an inflatable Lilo or beach ball. The softer plastic types tend to have a mixture of materials and are not easily separated. If you have dusted off the old beach buckets and spades but they have been damaged or are not the going trend for this year. These too can be disposed of at a recycling centre.
5)
Do you have a bag or drawer filled with old sunscreen bottles? Before you use them or throw them out, always check the dates before disposing. Sunscreen bottles can be disposed of in your general waste bin, but ideally if the container can be rinsed out first you can then place it in your recycling bin at home.
6)
When going through all your summer clothes, beach wear, towels etc don't just automatically throw it away. You can always donate or sell any unwanted summer outfits. Most charity shops will accept clothes that are still in good condition. For those items of clothing, towels, hats or footwear that are unwearable, these can be brought to your local recycling centre. Alternatively, you can bring your clothes to your nearest clothes bank.
---
Visit www.recyclenow.com or www.loveyourclothes.org.uk for lots of helpful tips and step-by-step videos to enable you to give your clothes a new lease of life by altering them or repairing them.
If you have come up with alternative tips & tricks, be sure to let us know by using the Barna app and we may include them in our next article. The Barna Recycling household customer service team are here to help you with any query you may have about your waste disposal needs.