Batteries contain a number of metals including lead, cadmium, zinc, manganese, lithium and nickel all of which are toxic to you and the environment with the potential to pollute rivers, lakes and contaminate water supplies. As well as this, these metals are highly valuable and reusable so disposing of them correctly is important.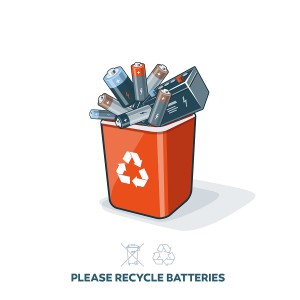 As part of the European Directive, in 2008 the Waste Electrical and Electronic (WEEE) was setup in Ireland making it easier for you to dispose/recycle your battery waste. In 2014 the Waste Electrical and Electronic (WEEE) has collected over five hundred tonnes of batteries in Ireland alone. By recycling your old batteries you protect the environment and your health from hazardous substances.
Some tips for managing your household battery waste
Check before you buy, ensure you check before buying more batteries
Look for batteries that have less heavy metals
Rechargeable batteries are a great option, and they are cheaper in the long run
Dispose of all your old batteries at one time
Storage of your old household batteries
Sometimes not all used batteries are dead, storing used batteries all together can bring live batteries into contact with one another which can lead to potential safety hazard in your home. Therefore it is important to store your used batteries in a small non-metallic container in a well ventilated area and bring them to the collection facility on a regular basis.
Car battery disposal
Car batteries which contain lead should always be brought your waste management centre. Here you can ensure they will be dispose of and recycled in a manner that will have no negative effects on the environment.
Donate to charity
There are a number of charities around the country that with take your old batteries off your hands. The LauraLynn foundation have collaborated with the WEEE Ireland providing a free recycling programme designed for schools. So you can get the kids involved, teaching them to recycle responsibly but also get the feel good factor of benefiting children in need.
Batteries can be recycled at any outlet or retailer that sells batteries of a similar type. At Barna Recycling we are committed to providing a service to recycle your old batteries. You can dispose of your batteries at the following Barna Recycling centre locations:
Carrowbrowne       Tel: 091 771619
Clifden                     Tel: 091 771619
Tuam                       Tel: 093 26438