In a world that's increasingly aware of its environmental impact, the concept of an eco-friendly bathroom has gained substantial traction. When it comes to creating an eco-friendlier space, we find that bathroom waste often gets overlooked. However, we all use toiletries, personal care items and bathroom cleaners daily, which makes our bathroom packed with recyclables!
If you take a minute to examine your personal care, beauty, and general hygiene routine, you might be surprised to find that often there is more waste in your bathroom than anywhere else in the house. From shampoo bottles, shower gels, soap packaging, disposable razors to bathroom cleaners and toilet rolls, the list is endless. And most importantly, you need to know how and where to dispose of your waste correctly.
Below we have outlined some handy tips and techniques for creating a low-waste, eco-friendly bathroom and reducing household waste disposal.
Clearing Chaos: Declutter for an Eco-Friendly Bathroom
Firstly, I am sure you will agree with us when we say the fewer products you have in your bathroom, the less waste you will produce. So, here is how to start reducing waste to create an eco-friendly bathroom:
Occasionally, dedicate time to reorganise and rearrange all your cosmetics, toiletries, and personal care items to know what you need and use regularly and keep them easy to reach.
Dispose of the items that you do not need and the ones that have expired.
Craft Your Eco-Friendly Bathroom By Making Conscious Choices 
Many cosmetics, toiletries, and even toothpaste tubes often come with excessive plastic packaging and cardboard boxes, including those that say are eco-friendly products. Try to avoid purchasing these products if you wish to create a planet-friendly bath and reduce your household waste disposal.
Opt for products that come with sustainable, biodegradable, or compostable packaging materials, corrugated bubble wrap, biodegradable foam beads and more.
With boxes or bubble wrap, it is always a good idea to reuse them where possible.
Use Biodegradable Products
Looking to reduce your plastic disposal? Instead of tossing out used plastic combs or brushes, make the switch to a biodegradable bamboo or wooden toothbrush/hairbrush. You can find wooden and bamboo combs and brushes that are all-natural, biodegradable, and very stylish.
Switch to using soap bars and shampoo bars to eliminate the use of plastic bottles completely, dramatically reducing household waste disposal of plastic. This is way more eco-friendly and cheaper when compared to liquid soap, shampoos and shower gels that come in plastic containers and non-recyclable plastic pumps.
When it comes to makeup or skincare, it is quite common to use up cotton pads per day and throw them after use. Instead, switch to using washable cotton makeup removal pads, which can be washed along with your regular laundry. Several make-up brands, in fact, reward you for recycling their old products, which might be worth looking into.
To create more impact, look for organic, palm oil-free soaps made from natural ingredients without any animal testing and come with compostable packaging.
Transform with Recycling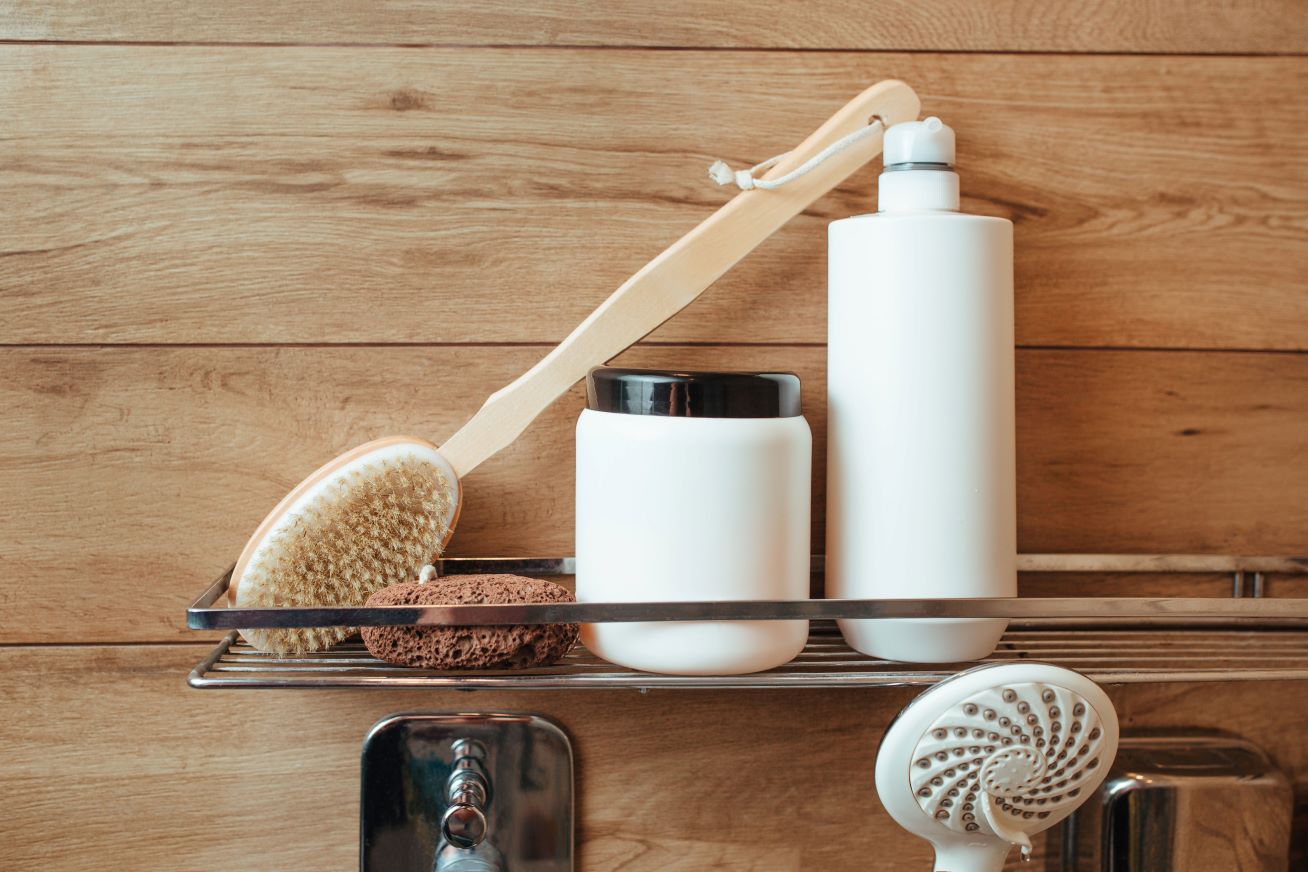 Are you looking for smart ways to have an eco-friendly bathroom and reduce household waste? The good news is that a LOT of your bathroom waste items can , in fact, be recycled. Here is a list of what can (and should) be recycled:
Shampoo, conditioner & shower gel Bottles
Toilet roll tubes
Hand soap bottles (reuse or remove the pump dispenser as you cannot recycle it)
Cardboard boxes, e.g., toothpaste or soapboxes
Bathroom cleaner and bleach bottles
Deodorant lids
Note: Items like nappies, toilet rolls, wipes, and cotton wool CANNOT be recycled and would have to be disposed of in the general waste bin (black Barna bin).
All items being recycled must be clean, dry, and loose. So be sure to rinse out any bottles and containers before popping them in the recycling bin. You can also check What Goes in My Blue Bin if you are unsure of items that you can recycle.
Go Green With Barna Recycling
Barna Recycling is Connacht's leading provider of waste management services, providing a professional, reliable and environmentally friendly service. Not yet a customer? Join today and enjoy the peace of mind that we will recycle what you throw away, lowering the costs to our customers and also to the environment.
Learn more about our contract options and sign up today.