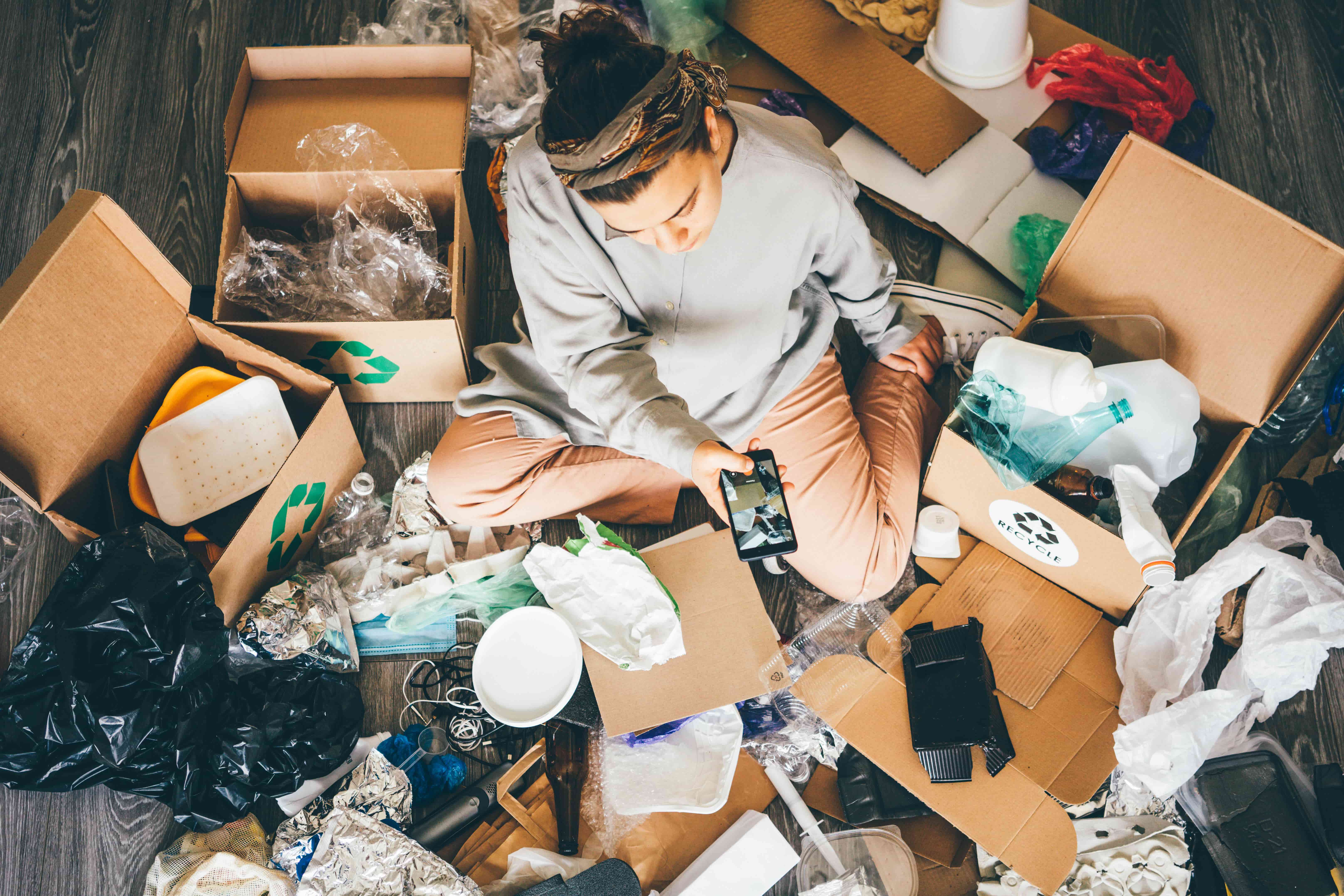 Decluttering your home during the holiday season can be daunting, especially when you're unsure how or where to dispose of the different types of domestic waste.
From clearing out the massive mess in the shed and old clutter in the attic and sorting out all the unused clothing, old blankets, and bedding to old books, now is the perfect time to deep clean your homes inside and out before the holiday season.
So, how about having a stress & mess-free holiday season? Below, we have outlined our top tips and key information to help you understand what to do with the different types of waste from your home clear out.
Understanding the Types of Domestic Waste
Efficient waste sorting is key for responsible disposal. It not only streamlines the process but also contributes significantly to environmental conservation.
General Household Waste
General household waste spans a broad spectrum, from everyday disposables to non-recyclable plastics. Recognising and categorising this waste is the first step in crafting an effective sorting strategy.
Hazardous Materials
Hazardous items can hide undiscovered among the many types of domestic waste. These pose a substantial risk to both human health and the environment. Identifying and safely disposing of such materials is imperative during clear-outs.
Electronic Waste
The digital age has given rise to a new challenge—electronic waste. Understanding the components of electronic devices and their potential environmental impact is critical for correct and safe disposal. Read our blog on electronic waste to learn more about responsible WEEE disposal.
Effective Sorting Strategies for Home Clear-outs
Make correct, responsible use of the designated bins.
Correctly sorting your household disposal and using the designated bins for the different types of domestic waste is the first step to ensuring an effective home clear-out. Ensure you separate hazardous materials and electronic waste.
Not sure of what goes on each bin? See what goes in each Barna Recycling bin.
Utilise Recycling Centres
Collaborating with local recycling centres facilitates the responsible disposal of recyclable materials. Barna Recycling's purpose-built Civic Amenity Sites can assist you greatly when clearing out your home. With seven civic amenity sites across Connacht, we collect a large variety of non-hazardous and recyclable household waste at a reduced cost.
Here are some of the benefits of using one of Barna Recycling's civic amenity sites.
They are cost-effective and cheap to use.
Accept a wide range of items, including hazardous materials.
They are clean, local, and easily accessible.
Open on weekends to make them more accessible to all.
They are well laid out and marked for each waste material.
Cater for small and large deliveries in the exact location.
Provide WEEE and Glass Bottle services free of charge.
Cater for small and large deliveries in the exact location.
Integrate Composting in Organic Waste Management
Integrating composting into household waste management significantly reduces the environmental impact of organic waste. Composting not only diverts waste from landfills but also produces nutrient-rich compost for soil enrichment.
More on Barna Recycling's Sites: Types of Domestic Waste We Accept
Old blankets/ Bedding & Mattresses: Some of our civic amenity sites will also accept any type of clothing, footwear, or textiles, including blankets, at selected civic amenity sites. However, an extra charge would apply for disposing of bedding and mattresses.
Books: Generally, books should be placed in the household recycling bin. However, if you have a large volume of old books, phone books, newspapers, and magazines, you can dispose of them at some of our local civic amenity sites.
Electrical items: You can bring unwanted electrical waste, more commonly known as WEEE (Waste Electrical and Electronic Equipment), such as Computers, Monitors, Mobile Phones, Electronic Toys, Game consoles, Speakers, Headphones and electrical appliances to your local amenity site to dispose of it free of charge.
Old Swing sets and Garden Furniture: If you have an old garden swing or garden furniture still in working condition, you could consider selling it, passing it on to someone else or donating it to local charity shops. You can bring them to your nearest local civic amenity site if they require disposal. Most wood, metal, and plastic furniture are widely accepted and recycled at civic amenity sites. Read our blog on bulk waste disposal.
Need more information on where to dispose of certain items or order a skip? Give us a call today at 091 771619 or fill in our Contact Us form.