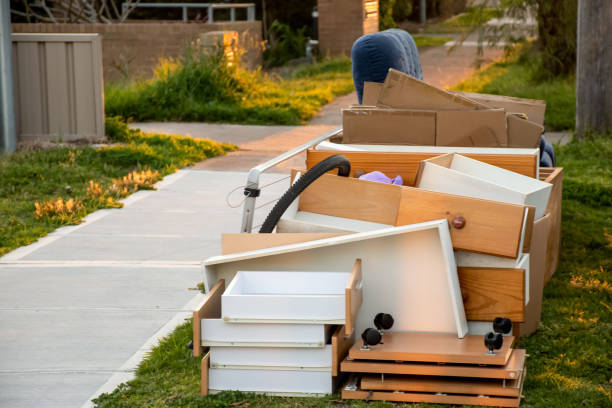 Still unsure how to manage bulk waste disposal? You are not alone. Large waste items can be classified as "Bulky Waste" as they are items that cannot fit in your general waste bins (e.g.: furniture, bedding) and always tend to take up too much space in your home. Here at Barna Recycling we often get asked by customers what to do with these bulky waste items.
In this blog, we have outlined our top three tips to help you get rid of those large items and have a more efficient and effective bulk waste disposal.
What Can Be Considered Bulky Waste
Bulk waste disposal can be confusing when you are not sure about what is considered part of this waste category. So, first, let's have a look at some of the common bulky waste items:
Couches
Chairs
Tables
Mattress
Interesting fact: Around eighty percent (80%) of most mattress' components can be recycled
Old furniture, such as wardrobes and bed frames
Large household appliances, such as fridges, freezers, washing machines, and dishwashers
TVs
Top 3 Tips For Bulk Waste Disposal
Tip 1: Why not try upcycling?
If you're still in love with your old furniture and want to get the maximum use out of it, you could always try to upcycle them where possible to create something entirely new. Upcycling is also a nice way to spend your weekends by getting your creative juices flowing. Besides, chances are you could end up creating something spectacular that you can advertise to sell and make some money.
Need some more convincing? Check out MyWaste.ie's video content around upcycling and selling items.

Tip 2: Donate to Charity
Before you dispose of your bulky waste in the trash, if it's in good condition, you could always donate it to a local charity. There are several charities around the country that are willing to collect old but clean and functional furniture from your home and bring it to those in need. The Irish Charity Shops Association website will help you to find the nearest charity shops near you.
Be sure to check in advance if the charity shop accepts furniture and large items.
Tip 3: Civic Amenity Sites
If your bulky item has seen the end of its useable life, and you feel the only feasible option is disposing of the bulk waste, you can always bring them to your local civic amenity site near you. However, an extra charge would apply for disposing of bedding and mattresses.
A member of the Barna Recycling team will meet you on arrival at the civic amenity site to identify the contents you want to dispose of. Our experienced and helpful staff will advise you and direct you towards where the materials should be put on site.
On some days and at some sites, there are people to help you with the unloading of materials, but this isn't always the case. If you need help, you can always give us a ring to let us know in advance, and a member of our team will be happy to assist you.
Remember, we also accept Waste Electrical and Electronic Equipment (WEEE) free of charge. For more info on how to correctly dispose of WEEE click here.
Efficient And Effective Bulk Waste Disposal With Barna Recycling
Get the most out of your visit to our civic amenity sites and make your bulk waste disposal more efficient by planning ahead.
See more information about our Civic Amenity Sites and view the list of items they accept.