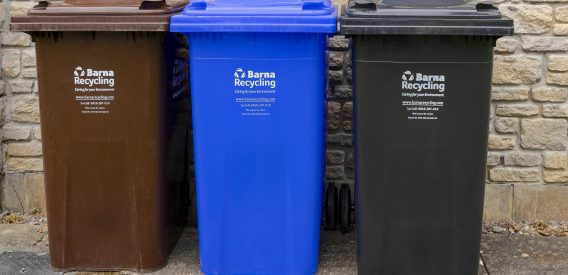 The first quarter of the year is the ideal time to start practising new habits when it comes to waste disposal, which we hope you will add to your list of new year resolutions!
And if like us you want to maintain a structured household waste disposal system that is easy to follow, you might be unsure where to start. But you would be delighted to know simple changes to your shopping and waste management habits is all it takes to be more sustainable.
Below we have outlined some of our top tips to make household waste disposal more sustainable for you in 2022:
Food Waste:
Firstly, let's have a look at some top tips to keep in mind when it comes to Food Waste:
Keep an organic/food bin in your kitchen to toss all your vegetable peels, leftover seeds, eggshells, etc., while you are cooking.
Be sure to store your fruits and vegetables correctly and use your freezer to reduce wastage and get the most out of your fresh food.
As much as possible, try not to toss out any leftover food in good condition. You can always store it in the fridge and reheat it again for lunch the next day.
Plan your meals – Creating a meal plan for the week and meal prepping in advance can help you save time and get the most out of your produce.
Home Composting is also an excellent way to get the most out of your organic food as well as your green garden waste. Click here to check out our helpful guide on composting to get started!
Shopping:
Be sure to check your fridge and cupboards in advance and make a list of all the items that you need before heading to the supermarket for your weekly or monthly grocery haul beforehand. Sticking to a list will ensure you are effectively managing waste by reducing consumption and buying less.
Always opt FOR reusable shopping bags to limit plastic waste. Be sure to keep reusable bags in your car or close to the front door or someplace to remind you to take it with you.
Likewise, avoid using small plastic bags when picking up fresh fruits or vegetables. Some supermarkets also provide sustainable options that are good for the environment.
When it comes to toiletries, cosmetics or household items opt for products that come with sustainable or biodegradable packaging materials that can be reused or recycled easily. With boxes or bubble wrap, it is always a clever idea to re-use them where possible.
Here at Barna, we find that there is always some confusion around which bin packaging items should go in. Check out our blog on correctly disposing of different types of packaging waste.
Announcement: Barna Recycling Household Mobile App Update 2022
The Barna Recycling team is happy to announce the launch of our newly updated household customer mobile app, with a range of new features and improved functionalities to make your life easier.
Android users:
Simply uninstall the existing Barna Recycling App on your phone.
Once that's done search for Barna Recycling in the App Store and install the latest version.
iPhone users however should notice an automatic update of their existing app to the latest version.
If you have large volumes of waste that cannot fit into your household bins, you can drop them off at one of our seven local civic amenity sites across Connacht to dispose of them at a reduced cost. Visit our website to find out where your nearest recycling centres might be located. If you have any questions on skip hire, do not hesitate to contact a member of our skip hire team on 091 771619. Also, check out our helpful skip sizing guide here.