The overall aim of these bye-laws is to ensure every household in Ireland is correctly disposing of their waste. It is hoped that this then becomes a deterrent for illegal dumping and the incorrect disposal of waste items. It will also help to improve the quantity & quality of all recycling items being collected that can then be reused rather than going to waste in a landfill site or incinerator.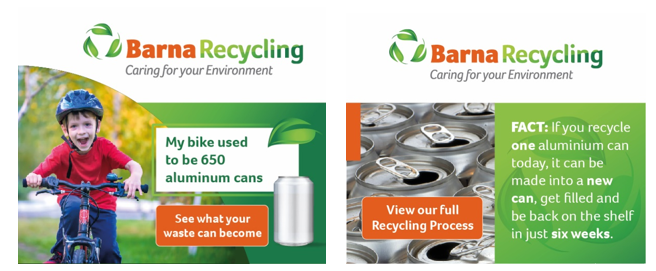 Click here to see our recycling process at Barna Recycling
According to https://www.mywaste.ie you can comply with these bye-laws by
Having a contract in place with an authorised door to door waste collector
Have a bin sharing agreement in place to ensure that the account holder has provided you with proof of agreement
Demonstrate regular use of an authorised waste facility e.g. civic amenity site
If you fail to comply, there is a fixed payment notice of a maximum €75 that your local council or An Garda Siochana will issue.
The Irish Waste Management Association (IWMA) has 40 member companies that collect, recycle & treat a wide range of waste types across 60 waste management facilities that are licensed by the EPA and approximately 30 waste management facilities that are permitted by the local authorities in Ireland. Barna Recycling is an approved member of the IWMA and as part of this we are obliged to provide our customers with a professional service. As part of this obligation we recently launched our new app which you may have seen in a previous blog post or our monthly newsletter. We are also running a series of informative Display Ad's on Google to show the processes Barna recycling have in place for the treatment and disposal of all waste as seen above in our recycling process.
As well as this recycling process we also set out Barna's process for general waste disposal & our composting process.
Did you know that as part of our composting process we mix, turn and store compostable waste products to produce high quality compost that is then delivered to local dairy & grain farmers?
Some of our general waste is also baled and exported for use by energy plants across Europe.
For further information on these bye-laws you can check out your local county council website & download the latest information sheet available on waste management bye-laws.
If you are a Barna customer, you can rest assured that you are compliant with these bye-laws.