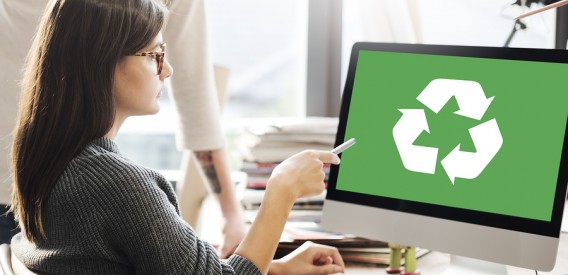 In this month's blogpost, we look at ways we can be more waste conscious in the office when using paper and printing!
Paper
Even the most environmentally conscious office still uses paper to some degree. Here are some tips on how you can cut down your paper consumption!
Use both sides of paper to cut consumption in half.  This setting can easily be selected on most printers.
Shred unwanted paper and reuse as packing material in cardboard boxes.
Reuse cardboard boxes which come into the office rather than using new ones.
Ensure there is a paper recycling bin beside every printer, copier and fax machine.
Inform your cleaning team on how your office segregates and disposes of office waste.
Take paperless notes to avoid unnecessary paper usage and double entry.
Consider purchasing only chlorine-free paper with a high percentage of recycled content.
Email instead of printing memos to reduce paper (and time!)
Allow employees to view PDF copies of manuals, policy and other documents online instead of printing out bulky hard copies.
Redesign forms to use less paper. One page will often suffice!
Get into the habit of proofing documents on screen before printing.
Use paper that has been printed on one side as scratch paper.
Avoid having bins under each office desk station as paper often ends up in these instead of the paper recycling bin.
Reduce paper towel waste by providing air dryers in the bathroom as an alternative.
Printing
Printing costs are significant for most offices. Becoming environmentally conscious around your print consumption can have the added impact of reducing office overheads.
Where possible, print in black and white as colour printing uses more ink.
Printing in draft mode reduces ink usage by printing in a slightly lighter shade which is still legible.
Purchase recycled toner and ink to reduce the burden on landfill.
Please share this blogpost with your colleagues to encourage mindful usage of paper and printers in your office.  If you have initiated any useful policies on reducing waste in your office we would love to hear them.  You can get in touch by emailing us here.