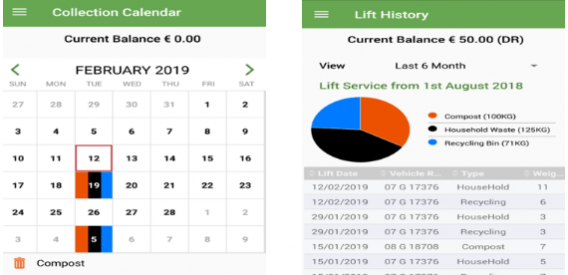 Bin Collection Calendar
Collection Reminders
Account Details
News Updates
Bill Payment
The Barna Recycling app allows you to check your account balance, view historical information and future scheduled pickups. You can get important notifications and alerts sent straight to your phone. You can even contact the Barna Recycling office using our Customer Support screen and check the current changes for the services you use most. The app is free to download on all mobile app stores.
You can check the app out here https://youtu.be/S5m3ulLCOII
As you all know St. Patricks day is around the corner and it is possibly the greenest time of the year. So why not use this as an opportunity to help encourage children to recycle. Instead of buying decorations and outfits for St. Patricks day parades or parties why not make them from recyclable materials. When attending parades do not litter and lead by example when disposing of waste materials. If hosting a party, then ensure all cans, bottles and paper materials are recycled correctly.
Unsure of how to make decorations using recyclable materials? We have some ideas for you!
Leprechaun Hat – You can use old paper, cardboard and some paint to make a hat worthy of winning a prize
Shamrocks – Old paper can be shaped or cut in to shamrocks, painted green and stuck to an old T-shirt, a pair of socks or shoes
Hair Pin – Use a clothes peg, some green paint and glue some paper shamrocks to it for a decorative hair clip. Instead of using a clothes peg you could use a pin and wear it as a badge
Rainbow – you can use old bottle lids or coloured paper to create a rainbow for your shoes or t-shirt
St. Patricks day is a fun way to teach kids to recycle and further their education on what can and can't be recycled.