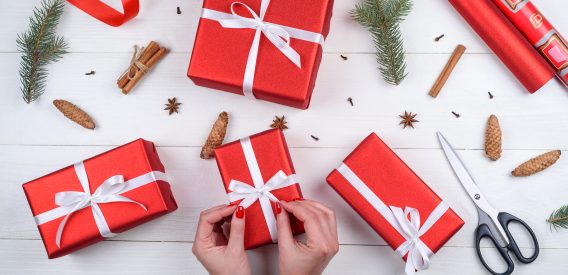 Christmas is a time of festivity, giving and family but it is also a time where the levels of waste produced increases. Most of us forget to recycle or dispose of waste properly or are not aware of the recycling rules. In order to help our Barna Recycling customers dispose of their waste correctly, we have provided the below list to follow this Christmas.
Share the Christmas Spirit by Donating Old Clothes
Instead of throwing away that jumper you only wore twice, how about donating it to your local charity shop to provide for those that are not so fortunate this holiday season. Another option if you don't have time to go to your local clothes shop is to bring the clothes to a nearby clothes bank. Just make sure that they're washed and in good condition before you donate.
What Can I Recycle at Home?
With Barna Recycling Blue Bins, you can recycle all clean and dry plastic bottles, glass bottles, drink cans, food tins, newspapers or magazines and cardboard.
Anything that is made of glass should be brought to your nearest bottle bank, putting each item into the correct bank for its colour.
Metal lids should be removed and recycled separately with drink cans.
Batteries can be recycled at shops that sell batteries as they generally will provide collection boxes for old batteries to facilitate their recycling.
To keep up with international standards in recycling, the Department of Communications, Climate Action and Environment and the Irish Waste Management Association are working together to draw up a list of materials you can put in your household recycle bin. You can read more on this at our Introducing Your New Household Recycling List blog.
How to Dispose of Your Real Christmas Tree
Anyone that has owned a real Christmas Tree knows how hard it is to dispose of once the holidays are over. One option is to bring it to your local Christmas tree recycling centre, which will take it off you for free. You can also avail of the tips in our blog on How to Treecycle  this Christmas.  Why not invest in an artificial tree which takes all the hassle out of recycling your real Christmas Tree.
Get Creative & Reuse
A great way to reduce waste as well as save money is to reuse unwanted items. Wrapping paper can be used to create collages or made into reusable decorations. Christmas cards can also be reused in a similar way as well as being used as gift tags. You can find more ideas and examples by visiting The Recycle This Guide to Recycling at Christmas. You can discover more tips on how to reuse old Christmas waste by reading our post on Recycling at Christmas.
Compost Waste Food
Food is one of the best parts of Christmas but no matter how much we consume, we always manage to leave have plenty left over. Instead of throwing unused food away, why not try composting with food waste over Christmas. You can add fruit and vegetable scraps, potato peelings, tea bags, coffee grounds, eggshells and flowers to your compost heap this Christmas. Many of these things would otherwise just be thrown away. If this is something that you're interested in then you can read our blog on The Benefits of Compost and Composting at Home.
If you don't want to compost, make sure to put in your brown bin so that it can be collected and processed to make compost, which can then be used as a fertiliser for farming.
Have a Green Merry Christmas from all of us at Barna Recycling!